"The meaning of life is to find your gift;the purpose of life is to give it away"- Pablo Picasso
And we at World University of Design are more than happy to be at the receiving end of the generosity of the mentors who visit us from time to time and enlighten us by sharing the intricacies of their art with our students.
School of Graphic Communication at WUD was honoured to have Shri Yogesh Rawal, a renowned name in the international art circles to conduct a day long Paper Collageworkshop on the 23rd of April 2019.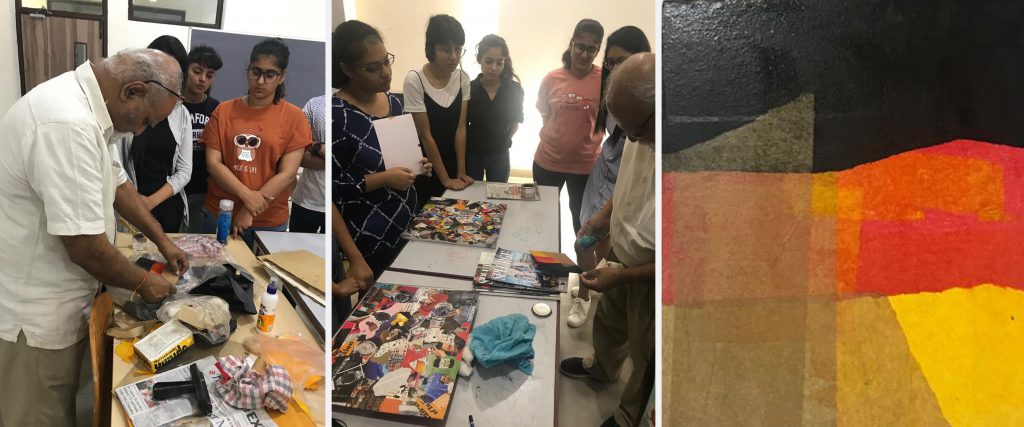 Hailing from Saurashtra, Mr Yogesh Rawal graduated from the Sir J.J. School of Art, Mumbai, in 1978. In 1979 he received a scholarship from the French Government to study lithography at the renowned L'ecole National Superieure des Beaux-arts, Paris. In 1980 he studied etching at Atelier 17, also in Paris. He has won several awards and has exhibited all over India, Europe and the United States. Aprolific artist, sculptor and print maker he is known for his collection of fascinating abstractions brought to life by clever and skilful use of paper collage, cellulose and synthetic resin. His deep understanding of light and shade often leaves one amazed at his ability to articulate it in his multi-layered collages.
We are also grateful to our Dean Academics Prof S M Kulkarni for all his encouragement, support and facilitation in making this workshop happen.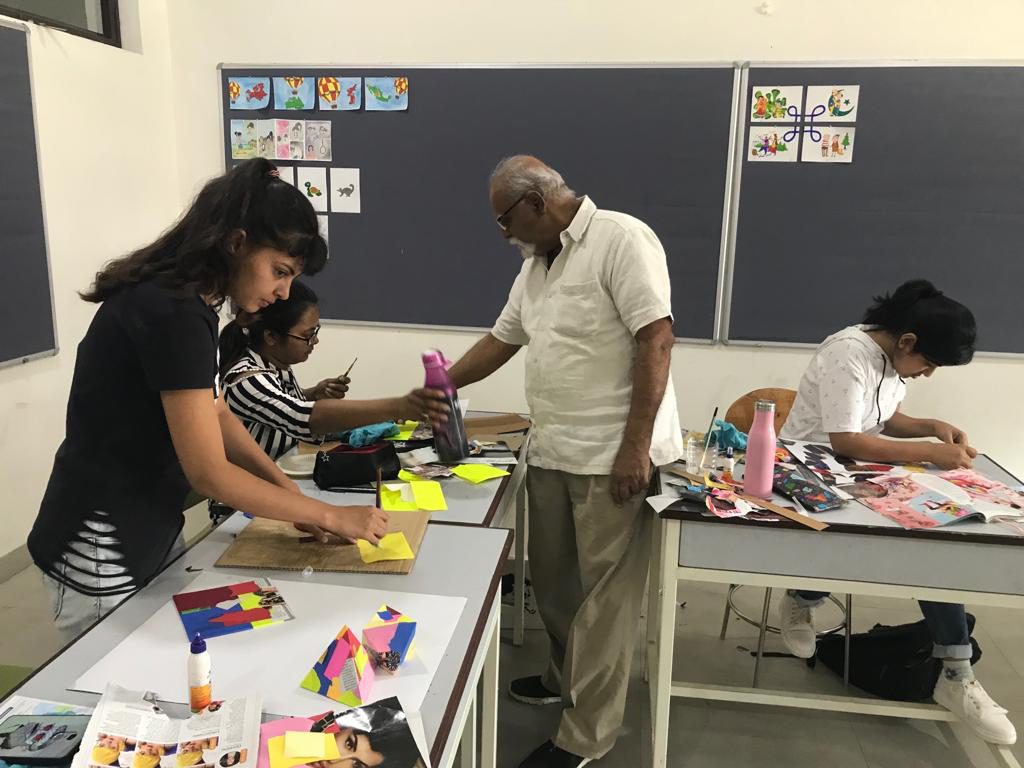 Paper Collage
We all have been introduced to a very basic idea of a collage at some point in our academic lives where we took pieces of paper and arranged it in some interesting form on another paper to create some kind of a pre-conceived composition. But Collage making is a full-fledged technique that artists have been using over centuries to create masterpieces of art, is something not everyone is aware of!
Paper collage is a technique of an art production where the artwork is created using an assemblage of different forms and shapes using paper. These forms and shapes eventually create a whole image.Collage art allows artists to work with existing materials which they can further explore and manipulate in order to create a brand-new artwork. The explorations could be derived out of a variety of materials ranging from newspapers and magazines to maps, tickets, propaganda, photographs, postage stamps, text, and even found objects. Collage has been used in different ways through many different periods in art. Names like Picasso, Braque, Raushenberg and Matisse are among the most prominent artists who have used collage in their works.
The Demonstration
The entire process of creating a collage was demonstrated to the students by Shri Yogesh Rawal including information regarding the varieties of paper that he had collected from distant places such as Bangladesh, Sri Lanka, Sikkim and even China. His collection of paper included hand made paper, rice paper, jute paper, bamboo paper, kite paper, old newsprint and many more. The textures and variety of form in each one of these was outstanding as was the output produced by the deft hands that dealt with these in his artworks. With simple everyday items such as paper, magazine covers, newsprint and an adhesive, the artist was able to create some outstanding artworks in no time.
Students got to see his collection of paintings, installations and collages that he had created over the years through a presentation that he himself conducted. It was a great learning experience for the students asthis was a one of its kind workshop conducted by an internationally acclaimed artist and that too in the comfort of their own classrooms.
Ideas and Explorations
The students were first shown the technique of tearing and pasting kite paper in layers on a hard board or any object which they wanted to do the collage upon. Some students went out and found interesting objects lying around the campus such as boxes, boards, waste wooden planks etc from the workshop and decided to use them as the base.Each student was encouraged to express his or her own unique concepts and style by using a different type of paper and other found objects. The artist himself made a small collage in front of the students using kite paper in the form of layers on a small wooden plank.The transparent effect that the kite paper produced was amazing and the depth and colour that was brought out by layering was something that is difficult to achieve otherwise.
After the students got to understand the technique, they started working on their own artworks with whatever material they had got with them or found around them. Once the pasting was done and the composition was complete, they were shown how to finish the artwork by coating it with a layer of Varnish or Lacquer which makes the artwork dust and moisture proof and also gives it a shine. The colours in the collage were further enhanced after a coat of Varnish.
Final Outcome
By the end of the day, each student was ready with his or her own artwork. Some were in the form of artboards, some boxes and others as a table top decoration. Each student had his or her own unique art piece that they displayed with great pride. The satisfaction and excitement to have learnt a new form or art than their usual drawing/ sketching and illustration exercises was clearly visible on their faces.
It was a day well spentwith a great mentor and his exemplary craft!
Thank You once again Shri Yogesh Rawal.
A little about the Blog writer :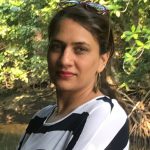 Aparna Gwande is an Associate Professor at the School of Graphic Communication, World University of Design. Essentially from a Textiles background, she has over a period of time developed a keen interest in art and graphics. Her multi disciplinary interests keep her motivated to gain knowledge from all sources.